Hand-made Antique Reproduction Sideboards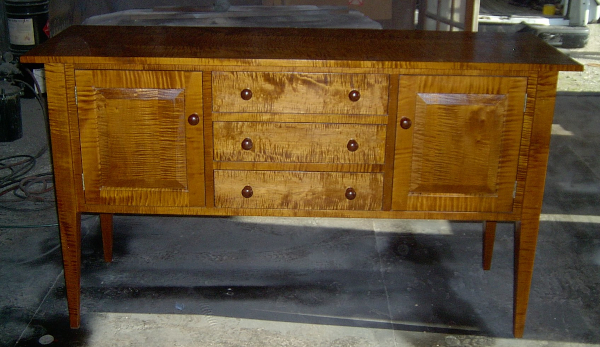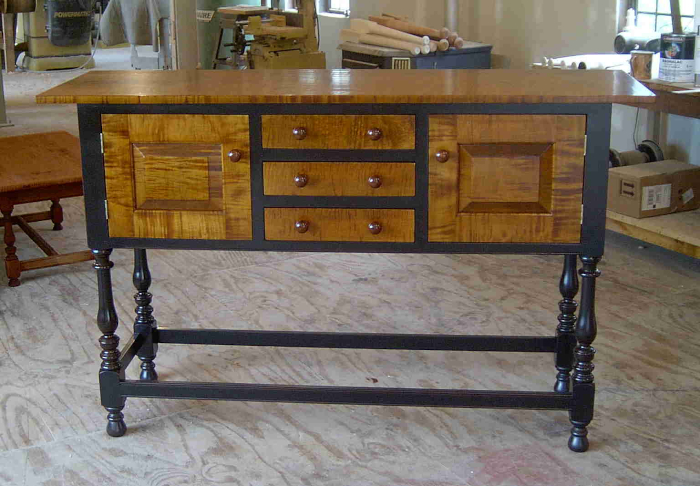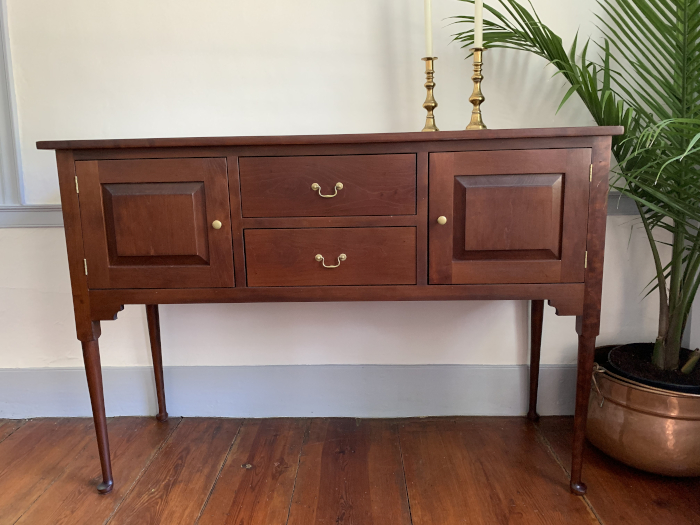 Today, sideboards are located in private dining rooms and fine hospitality dining rooms as an item of furniture for displaying fine china or other decorative items, when traditionally they were used in dining rooms for serving food and for storage.

A sideboard consists of cabinets, cupboards, and one or more drawers, all topped by a flat display surface used for holding food, serving dishes and even lighting devices. The overall height of the tops of most sideboards is 36" to 38" for ease of use.

The two standard lengths of this popular hand made piece made by Dungan-Tingley Chair Works are 55 or 62 inches long. The standard depth is 19 inches and the height is 38 inches.


Our sideboards are all made from select tiger maple or cherry wood, with poplar the "secondary" wood for drawers and the back.

Please contact us if you are interested in a custom size.

55" Sideboard = $3,800
62" Sideboard = $4,500
---
Nightstands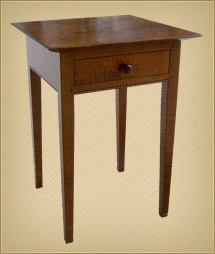 By far our most popular style of night stand is the traditional "one drawer" with tapered legs and a simple wooden knob on the drawer. They are all made from select tiger maple or cherry. Please contact us if you are interested in any variations of this traditional style.


One-drawer Night Table / Nightstand (19 x 19 x 28) = $445
---
Bar Stools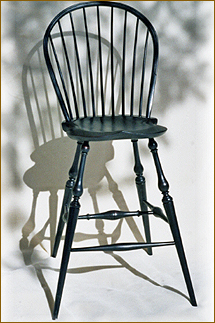 Traditional wooden bar stools are becoming more and more popular because of their varied styles and "old New England" appeal. Our bar stools were featured in the April 2013 "Traditional Home" magazine.

Dungan-Tingley bar stools are sturdy, comfortable and will fit into any décor. They are handmade in the style of our bow back chair and are 24 through 30 inches in height.
Please note: We do not make swivel bar stools.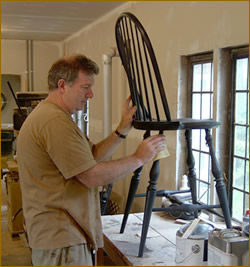 Bow Back Bar Stool; 24", 30" = $445
Round Top Bar Stool; 24", 30" = $260
---
Bar Stools | Coffee Tables | Dining Room | End Tables | Nightstands | Sideboards | Tables | Windsor Chairs | Chair Site Map



Skilled furniture makers at Dungan-Tingley Chair Works hand craft reproductions of American antique furniture and specialize in several styles of Windsor chairs
and a variety of tables, bar stools, coffee tables, dining room, end tables, nightstands, sideboards, tables, using only the finest quality cherry,
tiger maple, oak and pine. MA, Massachusetts, NH, New Hampshire, CT, Connecticut, RI, Rhode Island, VT, Vermont, ME, Maine, New England, USA