Occasional Tables
---
Coffee Tables
Dungan-Tingley Chair Works also offers reproduction hand-made wood end tables, coffee and hall tables.


Coffee Table
---
End Tables
The end tables are mini versions of the porringer style dining tables and measure 25 inches long, 18 inches wide and 25 inches high. The standard hall table measures 62 inches long, 19 inches deep and 30 inches high. Both the hall and end tables are built with either a cherry or tiger maple top. They can also be built to your custom specifications. Please email us or

Call 603.774.7811

for more information.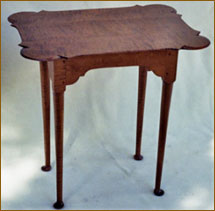 For milk paints; add 20%


Mini Porringer
25 x 18 x 25 = $510.
Tea Table
33 x 25 x 27 = $610.
Hall Table
62 x 19 x 28 = $800.
---
Occasional Contemporary Tables
Our newest line of occasional tables has a cleaner, straighter look, similar to what's known as the Hepplewhite period of furniture. All are available in tiger maple or cherry. Painted bases are also available. The following items are our most popular occasional tables. By the way, the coffee table is the modern replacement for the tea table.

End Table
18 x 2 4x 24H = $295.
Coffee Table
36 x 36 x 18H square = $525.
24 x 46 x 28H = $495
Hall Table
16 x 48 x 28H = $495.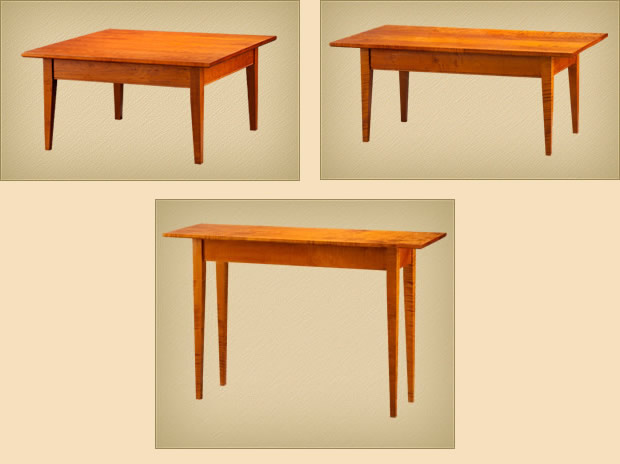 Bar Stools | Coffee Tables | Dining Room | End Tables | Hutches | Nightstands | Sideboards | Tables | Windsor Chairs | Chair Site Map



Skilled furniture makers at Dungan-Tingley Chair Works hand craft reproductions of American antique furniture and specialize in several styles of Windsor chairs
and a variety of tables, bar stools, coffee tables, dining room, end tables, hutches, nightstands, sideboards, tables, using only the finest quality cherry,
tiger maple, oak and pine. MA, Massachusetts, NH, New Hampshire, CT, Connecticut, RI, Rhode Island, VT, Vermont, ME, Maine, New England, USA